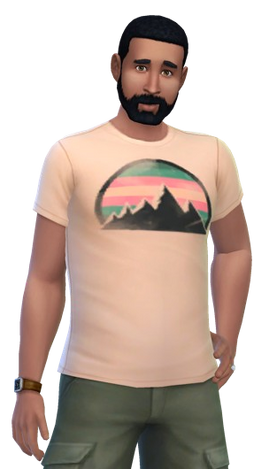 Bob Pancakes is a pre-made sim, currently living in Willow Creek. He is known for staying very calm while his wife Eliza Pancakes can argue whole day.
His ambition is to become a Master Chef and make the best pancakes in the world and to stop having arguments with his wife.
He is based on Bob Newbie, one of the first pre-made sims who were featured in The Sims. They both are married to women whose name are the derivative of Elizabeth.
He also featured in one of the trailers for The Sims 4, "Stay weirder" which portrays him as a slightly depressed sim that likes to be on his own.
Bob also posed for a wall poster called Stay Weirder worthy of 320 Simoleons that claims that he doesn't always eat breakfast, but when he does he makes pancakes.

When the Sims' franchise turned 16 years old on February 4 2016, Bob appeared with his depressing Tragic Clown poster, advertising the new free content that has been added with the update. One look at that poster and your sim will walk away with a "Tragic clown is tragic" moodlet.