The Sims 4 City Living is coming soon! Edit
It is possible to pre-order The Sims 4 City Living expansion pack in Origin for 39.99 dollars.
When you first hear the name of this expansion, it makes you think a lot about the Sims 3 Town Life Stuff Pack. This pack was not an expansion, but only included extra items to enhance your game play. Sims 4 has taken the City Living to the next step and decided to make a whole new game experience out of it!
The trailer for the City living expansion pack has been released on 13th September 2016. A lot of fans have also noticed that most of the trailer songs are not written in Simlish, like it was the case in Sims 3. As you can see the trailer for City Living is in English and this has disappointed many.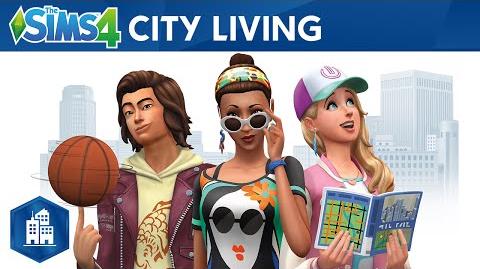 This expansion will be released on PC and Mac on November 1, 2016. This trailer has awakened many simmers and made the community excited to play The Sims 4 again. City living will become the breakthrough of The Sims series. A lot of comments have been made on this new expansion:
"MY FAITH IN SIMS 4 IS RESTORED" -Youtube

"Sooo... Townhoses, a new neighborhood, high rise buildings, street art/grafitti, playing for tips done right, politics career, protests, human statues, basketball, power failures, gaming consoles, a keyboard piano, new tattoos, "functional" apartment system (with complaints), new drinks, cultural festivals with food stands etc, karaoke/singing, fireworks... **** me up EA. This is some good content! And it's coming in less than two months. I mean it's not toddlers or pets... BUT DAMN THIS COULD BE MY FAVE ONE!" -Youtube

"HOW MANY SIMS 3 EXPANSIONS ARE IN THIS ONE?" -Youtube
New content
Edit
New neighborhood: San Myshuno
New careers: Politician, Critic, Social Media
Festivals
Street life
Apartments
Penthouses
Tourists
Power outages
Roach infestations
Video game consoles
Basketball
Bubble hookahs
Street art
Cultural events like eating contests
Fireworks
Ad blocker interference detected!
Wikia is a free-to-use site that makes money from advertising. We have a modified experience for viewers using ad blockers

Wikia is not accessible if you've made further modifications. Remove the custom ad blocker rule(s) and the page will load as expected.