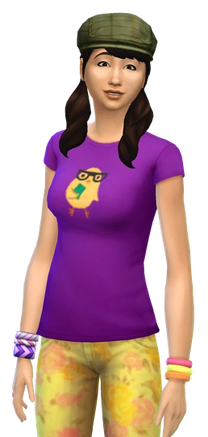 Liberty Lee is a pre-made Sim, residing in Willow Creek . She lives with her two housemates Travis Scott and Summer Holiday. Their household description indicates that Summer and Liberty have a crush on Travis Scott, but they're all merely acquaintances with no romantic interest for each other. This fictional love triangle conflict is based on one of the plots in MySims Kingdom.
Liberty is often seen wearing a short-sleeved shirt with a geek chick graphic, representing one of her traits. She wears a pair of flower patterned yellow trousers and a pair of cyan slippers. She has curled pigtails with side swept bangs and loves to wear a beret, but sometimes she can be seen with straight, shoulder length hair. Her colorful bracelets reflect her charismatic aura and cheerful mood.
Ad blocker interference detected!
Wikia is a free-to-use site that makes money from advertising. We have a modified experience for viewers using ad blockers

Wikia is not accessible if you've made further modifications. Remove the custom ad blocker rule(s) and the page will load as expected.