The Pancakes Family' lives in Willow Creek and are often being accused by neighbors of being too loud with their funky quarrels. The family consists of:
They both featured in the Stay Weirder -Weirder Stories Official Trailer and will forever be remembered as "The couple that ate their last name everyday". Weird enough, all meals that aren't pancakes either burn or end up being of low quality, despite the fact that Bob is a caterer.
The Pancakes Family have an average household income of 20,000 Simoleons.
Biography
Edit

Poor, poor Bob and Eliza – have they ever been happy? It seems there's nothing one can do to please the other. Just what is keeping this couple together? Or, conversely, what is the spark that will finally drive them apart?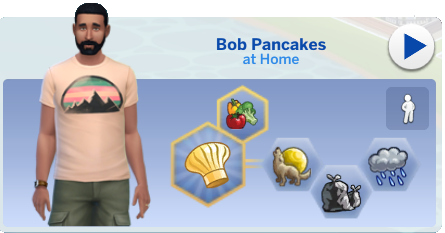 The Pancakes Family lives in a 2-floor apartment in Willow Creek on a 30x20 lot. Since they have two bedrooms with two different colors, we can assume that Eliza and Bob prefer to sleep in different rooms.
First floor
Edit
Kitchen. A medium kitchen with all the needed kitchenware.
Dining room. A medium-sized casual dining area with 6 chairs.
Veranda. A front porch with a seating area.
Living room. A big living room with plenty of seating areas.
Stair-room.
Second floor
Edit
Bedroom 1. A very large bedroom with pink bedding and pink furniture. We can assume that this is Eliza's bedroom.
Bedroom 2. A medium sized bedroom with blue accessories and a gym set. This is Bob's bedroom.
Bathroom 1. A small pink bathroom with a bath.
Bathroom 2. A large bathroom with shower, bath and a counter sink.